The countdown to BurlyCon X is on with 6 months left to budget, plan, and kick yourself into gear as we prepare to celebrate ten years of BurlyCon! With education and training being the main attraction in this blog I've interviewed a few burlesque teachers who have been in the business of teaching burlesque. Not only will you find them at burlesque schools, but they have also taught at universities, acting studios, fitness clubs, and other non-burlesque specific places of education.  As burlesque educators, I wanted to find out if teaching burlesque has changed much for them during their careers.
The Panel
Cherry Manhattan, Seattle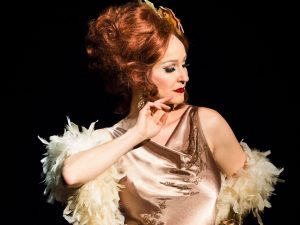 photo: Wynne Earle
Where and what do you teach: Cornish College of the Arts, I'm on the Theater Faculty, and teach multiple courses including  "Neo-Burlesque Theory & Performance", and Freehold Acting Studio – "Intro to Neo-Burlesque"
How long have you been teaching burlesque?  6 years
World Famous *BOB*, I just moved from NYC to Austin, TX. I was in NYC for 21 years and have been in Austin 1 month.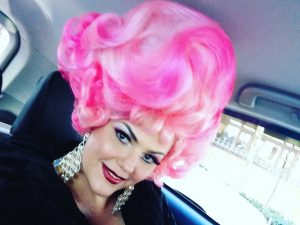 Where and what do you teach: I teach several subjects and will do so anywhere that English is understood. I'm sadly not multi-lingual but luckily many countries are! I created my Ultimate Self Confidence! Series in 2004 with the encouragement of Jo Boobs Weldon and since then I have also created my USC! One on One Coaching practice. Other subjects I teach are Hosting Basics, Polishing Your Professionalism, Gender Superstars! and Gender as Performance. I lectured on Gender as Performance for 11 years at NYU and have taught at BARD college as well as St. Francis and Kingsborough Community College. My classes are often featured as part of Burlesque festivals worldwide. It's a great honor to be a teacher as well as a student.
How long have you been teaching burlesque? I've been formally teaching Burlesque related criteria for 13 years including private act development sessions. I did not teach until I had 8 years of experience though – not that beginners don't have things to share but I wanted to have a vast personal library of experience references to pull from to offer my students.
Midnite Martini, Chicago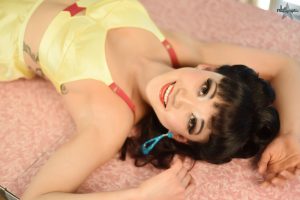 photo: La Photographie
Where and what do you teach: Burlesque Dance, Burlesque & Barre Fitness at Studio L'amour, The Brass Ring, and Fitness Formula Clubs in Chicago and Co-Founder and still Guest Instruct The Burlesque Booty School in Denver.
How long have you been teaching burlesque? I started specifically teaching burlesque in 2009, but had been teaching aerial and other dance classes before then
Panel Questions & Answers
 

What interested you in teaching burlesque & how did you get started?
Cherry: I trained as an actor and a director, both in the US and abroad, and have taught students at every grade level both in public and private schools for the past 21 years.   
Specifically, I'm currently a faculty member at Cornish College of the Arts where I have been teaching in the Theater and Performance Production Departments for the past 11 years.  So when my own performance path veered into burlesque, it seemed only natural that I would bring this to my students as well, and share with them the details of creating work of this nature.  I feel incredibly lucky to be a part of a faculty where it was actually my department chair, Richard E.T. White, who first approached me with great progressive vision and said "Don't you think we ought to have a course on Neo-Burlesque?" and asked me to create one.  And since then I have had the joy of personally teaching and mentoring over 150 students and new acts, and I feel immensely proud to be at one of the very few schools in the country that offers a combined theory, history and practical studio skills course in Neo-Burlesque in their curriculum.  I also teach classes independently, and at Freehold acting studio.
Midnite: I started teaching burlesque in 2009 I believe. I had been teaching dance and aerial classes before and had been burlesque dancing for a few years at that point. So it was a natural next step for me to take.
The thing I didn't anticipate was the difference in what I would end up focusing on when teaching burlesque. Those classes were much more focused on empowerment and inviting in self-worth. It was a refreshing change to let go of the pressures of technique to some extent and focus more on just feeling good!
From the very first class that you taught to today what has been the biggest change you have seen from teaching your class (either from an administrative, educational, or class standpoint)?
Midnite: Again speaking back to my first answer my biggest shift as an instructor I think has been my focus of the classes. I quickly found I was more interested in spreading that feeling of self-worth and body-positivity with burlesque and wanted to have that underlying theme in all my classes! Don't worry, we'll still move, workout, and learn a lot in classes, the lovey wooey-woo stuff is just woven into the hard work. The shift of my teaching style and classes to this was pretty natural though it didn't happen overnight.
Also I've just grown to be more comfortable teaching, speaking and cueing. So I'm sure if I looked back on my first class I'll be slightly horrified at how awkward I may have seemed to me now. I hope my classes are cleaner, more well organized and have more clarity and depth now.
But that's a great thing! I'm always trying to learn as a teacher and hopefully will continue to grow which will therefore affect my classes to continue to shift and feel different.
As for purely logistics, it's funny because I feel like there's a lot more interest in burlesque than when I first started teaching. It's more "mainstream" or well-known now, so you're not having to explain to students what it is first and then get them to sign up for class, more people know what it is already and are searching out classes themselves. BUT there's also more classes and burlesque all around, so that doesn't necessarily mean you get more students in your classes. It does make me appreciate and work towards how I can make my classes unique and try to bring all that I can offer each time I instruct.
 

Why do you think it is important to have classes on burlesque?
World Famous BOB: It's an absolute marvel that there are SO many schools and places to learn this incredible performance discipline. When I started in 1996 I just watched Something Weird Videos for reference! Classes are important for a handful of different reasons. 1. It's so important to share the history of this art form and having the legends teach is an extraordinary opportunity! What field can you sign up and learn in person from the BEST? We're so lucky that much of Burlesque's history is living and willing to teach us!  2. Not everyone who takes a class has to become a performer but aren't they fun?! If you think about people who enjoy reading- they don't all become authors but book clubs are great! It gives people who love burlesque or want a fun new way to move their bodies the chance to enjoy burlesque in a relaxed atmosphere. (Trying to copy Something Weird videos at home was very stop and go.) 😉  3. It is a way for professional performers and aspiring professional performers to enhance their skill sets, learn new approaches as well as teach others themselves. In this way we have access to a rich vocabulary of Neo Burlesque's tool kit for learning and improving our own ability to convey the story we want to the audience.
Cherry: From an educational standpoint, I think it's extremely beneficial to have classes in burlesque at the college-level because it stands as one of the pillars of a balanced training in the arts.   Here at Cornish College students are trained in such genres as clown, dance, fight combat, Restoration Comedy, solo performance, and a multitude of other approaches and styles that round out their "tool kit" as performers.  Not only does burlesque stand alone as an important part of the evolution of American Theater that every performer ought to be versed in, but it also serves to synthesize so many of the forms they are learning, and put them together in a single, self-authored performance.   
Creating burlesque calls upon an artist to not only act or dance, but to direct, choreograph, draw contextual meaning from history and current events, create costuming, respond to music, collaborate with others, and then actively interact with an audience – it's the full gauntlet!  Plus students are getting work in burlesque and drag right out of graduation (Jinx Monsoon is one of our treasured alums, and four different troupes have formed from my classes at Cornish, and gone on to produce prolifically and even be featured on Bumbershoot's theater stage) and I believe we need classes to support the type of work they are going out into the industry to engage in.
Yet from a personal standpoint, I find it crucial to offer young artists a chance to feel what it is like to own the power of their own bodies.  Our entire lives we are told by others what we should do with our bodies – where we should take them or not take them, how we should dress them, how we can and cannot behave in them, and so much of that is based in fear, shaming and policing.  But to perform a piece of burlesque is to hold space onstage utterly without apology, and for a few glorious minutes you get to tell your own story about your body.   I've spent years watching 20 and 21 year olds step into that power for the first time, and to see them truly understand what it means to be the author of the story of their own body, and to share their idea of beauty, sexuality and self love with an audience, is the most gratifying part of being a teacher.   In an acting training program we constantly require young actors to be vulnerable, put their physical body out to be judged, and ask that they step into roles that portray the most vulnerable, sexual and powerful parts of humanity … but so rarely do we give them the direct tools with how to cultivate and effectively wield these very raw parts of their humanity and sexuality.   How can you play Lady Macbeth if you are afraid of sex?  How can you dance with authenticity if you feel shame about your weight?  How can you face the constant rejection of auditions if you can't walk into any room like you own it?  In this way, even for students who aren't considering a career in burlesque, taking classes on the theory, history and technique of burlesque can be akin to confronting all your personal fears all at once … and emerging informed, confident and empowered.
Midnite: Just like any skill, art form or activity someone wants to learn and grow in it is important to have classes to help guide that journey. I believe that there is no "one way" though. I remind students that I believe I'm giving them tools for their toolbox. When creating a piece as an artist you want as many tools in your toolbox as possible, but it is your choice as to what tools you use at what times. Some speak to you more than others and that's okay! The more classes/teachers you can learn from hopefully the more tools you gain for your toolbox. It expands your views and resources which ultimately will help make you a more creative, innovative, and capable artist and performer.
Think of if you want to build a house and are limited to only 3 tools. You won't get too far or the house will end up being pretty simple. But if you keep adding more and more tools that you can use your options expand and your house has more potential. You don't have to use all the tools, but you now have the choice and resources to do more to build!
 

Have you seen a change in public or student perception in regards to burlesque?
Cherry: It's certainly become a lot more popular!   Five or six years ago it felt like the students enrolling my burlesque classes at Cornish were the ones "brave" or "bold" enough to try it, and now it feels like a much more integrated part of the performance training expectations they have for themselves.  This may be due in part to simply the saturation we've had at the college, and a school culture where they enter as Freshmen and see the end of year burlesque showcases, and then wait with anticipation until their senior year to take the course.   But I think it also says a lot about the high quality of professional burlesque we have here in Seattle, and how many opportunities there are to see such a wide range of styles, genres and types of burlesque, and get exposed to all the ways you can use your theater degree professionally.  As we move farther and farther away from the old-school repertory acting models of theater, and performers become increasingly diversified and multi-faceted in the types of work in which they regularly engage in order to shape a career in the arts (from stage acting to web series, pod cast creation to graphic design, etc) I believe more and more artists are seeing burlesque as one of those potential facets that they can actively pursue in fulfilling their whole artistic self.
Midnite: Yes! As I mentioned before it's way more "well-known" now. Most students already have a pre-conceived notion of what burlesque is and so they have expectations of what they want to get out of the class. Back in the day students would come in with no idea of what they were getting themselves into.
Both scenarios have their advantages and disadvantages. Mainly now I ask my classes (if they aren't too big in size) to go around and introduce themselves, say if they are connected with burlesque already and how, and what they want to get out of the class. That gives me a good idea of where students are coming from and it makes me feel better prepared to adapt to their given situations.
How has your curriculum developed over the years?
World Famous BOB: The largest area of growth in my curriculum has been the addition of courses in my Ultimate Self Confidence! Series that invite everyone to participate. My original workshop for Cis Gendered Females is a truly magical experience and I still teach it. I've been able to extend the concepts in that experience to workshops for EveryBODY, LGBTQ Youth ages 12-25, LGBTQ Elder Women 65+ (ALL Women Welcome) as well as my One on One Coaching Business. ALL of that came out of my first class at the New York School of Burlesque. That class was called, "How to have really BIG hair and not care if the neighbors call you fat!" Which is now a chapter in the book I'm working on. You just have to start- who knew I'd be where I am now as a teacher!
Midnite: The best thing I've done as a teacher is take lots of classes myself! From fitness to dance to burlesque to theatre, every class offers something to learn and every teacher has a different way of delivering their message. By casting a wide net as a student I have helped myself develop and refine my curriculum as a teacher over the years.
What has been the biggest challenge teaching burlesque?
Midnite: For me I've found there's a fine balance of wanting to provide a safe and welcoming space for all students and still be able to critique and correct technique, movement quality, and performance. How can I challenge my students to grow in their skill or push harder in a workout or correct improper dance form being sensitive to not trigger feelings of isolation, shame, or comparing themselves. I can't say I achieve this balance all the time, but I am always aware of it in my classes
 

If you had to pick one, what is your favorite teaching experience of all time?
Cherry: The majority of my most treasured teaching experiences center on how vast the transformation can be in a student from pre-burlesque to post-burlesque.  Like the young woman who almost cried when she saw that her stage costume for the mainstage theater production I was directing her in was a regular pair of shorts, because she couldn't even bear to show her legs at the time, and she is now not only performing burlesque professionally, but is also a producer!   Or the student who confided in me that they were only taking the class because it utterly horrified and terrified them to face their body issues, and then 6 months later they are walking nearly naked down 4th avenue with me in the Pride Parade dressed as a piece of candy.   Now anytime I meet a student who describes themselves as shy, I am pretty much ready for them to be the one with a ball gag and a butt plug in their solo act.
Midnite:  Oh man, I don't know! I've been teaching all different things for a really long time . . . the first thing that pops into my head is I used to teach for Frequent Flyers Aerial Dance in Boulder, CO. They have a program called "Kids Who Fly" that takes at-risk youth and teaches them aerial. Those classes were almost always rewarding as you saw these kids and teenagers slowly let down their guard, work together, and achieve more than they every gave themselves credit for.
But in one particular class we had a group that was from a rehabilitation school; all of these students had struggled with substance abuse in their past. They were very hesitant and "too cool" to try at first. Slowly one by one they tried out the trapeze, discovered they could do more than they thought they could and it was actually fun. By the end everyone was up in the air and cheering each other on! At the end of the class their teacher came up to myself and the other teacher and told us that they had not seen the kids like that before. Just having fun so carefree. And they said that one of the students had asked if they could come back to do that again saying it was better than getting high. That is a moment as a teacher I'll always value.
I get those teaching burlesque too. I've had several students tell me their stories of how the burlesque classes helped them get out of a bad relationship, helped them start to love themselves and accept their bodies, helped them find and start to accept their sexual identity, helped them feel more confident at work or take that risk in life.
Those fill me up as a teacher. It makes me feel that great appreciation of, "I'm so fortunate to be providing something in these people's paths and journeys, whatever that and wherever they may be." It makes all the bad shit you ever cross or have to deal with worth it. I hold those times very close to my heart!
If money was no object, what would you have in your classroom and why?
World Famous BOB: Everyone – because if we were all open to learning together in the same space anything would be possible! (World Wide Ultimate Self Confidence! Workshop)
Midnite: Yes, dream time! I would want a HUGE open studio space that is half hardwood floor and half carpeted (because sometimes venues are carpeted and you gotta practice your heels on that shit!)
Skylights to let in natural available light, huge windows that lead out to an amazing view, and then huge mirrors lining all the other walls. There'd be a big screen that can come down for projections or to watch video on.
It would be sustainable and powered by solar and wind. There'd be aerial rigging capabilities with a fly system, retractable poles that came down from the ceilings to the floor and storage space for all the other props and equipment a showgirl's gotta have!
Oh, it would also have a food and drink area in the corner with wine and tequila on tap.
Y'know, just your simple everyday classroom! Okay, I put it out there in the universe, maybe this will actually happen one day! 😉