Board Members
Lola Love
Executive Director
Lola Love is a California native who escaped to Hawai'i to achieve the perfect sun kissed, tropical glow. She is a pioneer of neo-burlesque in the state, co-founding the first troupe and school in the Aloha State. Lola has been the Director of Programming since 2013 and was also the Deputy Executive Director in 2018.  Lola has extensive event management, planning, and coordination experience, and is currently pursuing a degree in Non Profit Management. "I fell in love with the organization my first year in attendance (2012). It has been an honor to serve the organization and to serve my community. I am thrilled to take on this new role and lead the organization in its second decade."
Miss Indigo Blue
Board Member
Miss Indigo Blue is an award-winning burlesque entertainer, educator and entrepreneur. She got her start in Seattle in 1994 with Tamara The Trapeze Lady's "Fallen Women Follies", and the rest is practically net-burlesque history. She started TwirlyGirl Pasties "exquisite pasties for discriminating nipples" in 2001, and founded the Academy of Burlesque in 2003. Shortly afterward she joined the Atomic Bomshells and began performing with Lily Verlaine Presents. In 2011 Miss Indigo became "Miss Exotic World", the Reigning Queen of Burlesque and represented the Burlesque Hall of Fame as the top Burlesque entertainer in the world. To date she has appeared on the "Top 50 Burlesque Performers" rankings by 21st Century Burlesque each year since it's inception. Seattle's Burlesque stalwart, she continues to be a sought after headliner and emcee at events across the globe. Always interested in discussing behind-the-scenes topics such as feminism, cultural appropriation, aging, sex work and other deep topics, Indigo longed for a platform to get into deep conversations without the lingering call, "10 minutes". With her background in event production, non-profit work, political campaign organizing and volunteer coordination, Miss Indigo Blue created BurlyCon as the first International Educational and Social Convention dedicated to Burlesque in 2008.
Jo "Boobs" Weldon
BurlyPod Lead, Co-Curator, and Board Vice President
Jo Weldon, aka Jo Boobs, is pioneer in the neo-burlesque movement. She's been voted one of the Top 10 burlesque performers four years in a row in 21st Century Burlesque's annual international poll. She's been the Headmistress of the The New York School of Burlesque since 2004. Since 1994, she's published numerous articles on burlesque, striptease, stripping, and sex work in general in magazines, newspapers, and anthologies. She is the author of "The Burlesque Handbook" (Harper Collins), the first book ever published on how to create burlesque routines, with a foreword by Margaret Cho, and has produced several acclaimed video programs for burlesque beginners with World Dance New York. As a sex workers' rights advocate, she has attended and spoken at academic conferences, including The Socialist Scholar's Conference, The American Philosophical Association Pacific Division Meeting, the International Congress on Prostitution, and the United Nations Beijing Plus Five Conference. She is a believer in burlesque as a means to introduce women to explore and enjoy the power of playful and/or confrontational exhibitionism, as well as creativity and self-expression through self-initiated theatrical performance. Jo Weldon is based in NYC and beyond.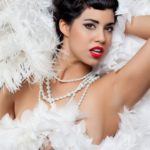 Coco Lectric
Programming Team and Board President
Austin's "High Voltage Vixen" is the Headmistress of the Austin Academy of Burlesque, founder of the Austin Burlesque Alliance, Co-Founder and Producer of the Jigglewatts Burlesque Revue, Co-Producer of the Texas Burlesque Festival, and Producer of the World Go-Go Championship. Coco competed for the title of "Reigning Queen of Burlesque" in 2011 and 2012. She was the second runner-up at Viva Las Vegas 2011, the 2010 New Orleans Burlesque Festival's "Queen of Burlesque", and the 2010 "Texas Performer of the Year." She was voted #7 in 21st Century Burlesque's Burlesque Top 50 for 2011. Coco joined the BurlyCon Board in 2013. Coco is based in Austin, TX.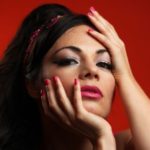 Kristina Nekyia
Fundraising Team and Board Secretary
Kristina Nekyia is a showgrrrl belly dancer circus contortionist burlesque queen pin up nymph actress fire eater director and writer based in Los Angeles, California. Kristina was the 2010 First Runner-Up for the title of Queen of Burlesque at the Burlesque Hall of Fame competition in Las Vegas, and in 2005 she was the Hips of Fury Belly Dance Ultimate Soloist. Her dedication to the art of Mongolian contortion led her to study with the Mongolian Circus in Ulaanbaatar, and develop the first ever belly dance contortion fire duet with world-famous contortionist Serchmaa Byamba. Kristina joined the BurlyCon Board in 2013.
Ophelia Flame
BurlyPod Team and Board Member
Known as "The Burning Sensation," Ophelia Flame is a pioneer of the Minneapolis neo-burlesque scene and a mover and shaker in the world of burlesque. With her trademark red hair and elegant dance style, this fiery ecdysiast is known for her sexy-smart performances, ranging from classic to comedic. Ophelia has performed across the U.S. and is an internationally recognized burlesque performer, headlining both the Colorado and Toronto Burlesque Festivals in 2013 and Viva Las Vegas in 2014. She has been selected as a top contender eight times at The Burlesque Hall of Fame and holds the 2012 Reigning Queen of Burlesque, 1st runner up, and the 1999 Miss Exotic World, 2nd runner up titles. For five years running she has been nominated as one of the top 50 burlesque performers in the world by 21st Century Burlesque, and received a Golden Pastie Award for "Most Fabulous and Fitting Stage Name" from the New York Burlesque Festival. Ophelia has been featured in The Burlesque Handbook by Jo Boobs Weldon, Marie Claire, and numerous other publications. As a respected producer in the Twin Cities since 2004, Ms. Flame creates memorable shows and special events. She has been teaching burlesque since 2005 and is founder of Minnesota's first school of burlesque, The Playful Peacock Showgirl Academy. Ophelia is a founder of The Best of Midwest Burlesk, the region's first festival of its kind, The Minneapolis Burlesque Festival and is the creator of the Twin Cities branch of Dr. Sketchy's. She enjoys anything shiny and cocktails at inappropriate hours.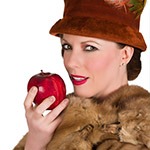 Red Delicious
Chief Operations Officer, IT Lead, Registration Co-Lead, Venue Team and Board Treasurer
Red Delicious is a model, performer, bookkeeper, and business maven. She began her burlesque career in the early 1990's with the Fallen Women's Follies and BurlyQ: a Queer Cabaret. Red is the Business Manager for the Academy of Burlesque. If it needs a spreadsheet, then Red is the gal for the job! Red is based in Seattle, WA and Tulsa, OK.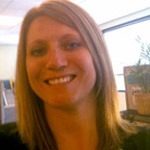 Sandy Beaches
Merchandise Team, Sponsorship Team, and Board Member
Sandy Beaches started her journey into Burlesque in 2007 when she graduated from Miss Indigo Blue's Academy of Burlesque. Since then she has worked for both The Academy of Burlesque and TwirlyGirl LLC. This is her fifth year on the steering committee for BurlyCon and this year focusing her attention to merchandise. She is also on the board of directors for BurlyCon and her roll is Director of Development. Her full time job is in aerospace sales and she has a bachelors degree in Business Administration. Sandy is based in Seattle, WA.

Jen Gapay
Sponsorship Team and Board Member
The mastermind behind Thirsty Girl Productions, www.thirstygirlproductions.com, an alias that serves her well as the producer of hundreds of music, burlesque and variety shows. Voted the #1 Most Influential Non-Performing Woman in Burlesque by 21st Century Burlesque in 2013, Gapay started The New York Burlesque Festival in 2003 (with Angie Pontani) and The New York Boylesque Festival (with Daniel Nardicio) in 2012. Both festivals are multi-day, multi-venue events featuring a cavalcade of international performers showcasing for sold out crowds. In 2010, Thirsty Girl founded and produced The Coney Island Talent Show, now in its fourth year. She is also the Associate Producer of the PBS-aired documentary Last Summer at Coney Island, and has organized benefits for Coney Island USA, The Coney Island History Project and Save Coney Island.  Gapay was Artistic Director for 2006's The Dresden Dolls, Fuck the Back Row Tour, and talent coordinator for several tours in the USA, Europe and Australia. In the summer of 2008, she teamed up with Amanda Palmer of The Dresden Dolls to co-produce The Establishment: A New World Cabaret Experience at the Rothbury Music Festival in Michigan. That same year Gapay & Sxip Shirey produced Sxip's Hour of Charm at Harvard's American Repertory Theater Company.

Baby Doe
Sponsorship Team and Board Member
Since 2001, Baby Doe is the Artistic Director and Producer of the first ever burlesque convention Tease-O-Rama (www.teaseorama.com). Baby Doe was honored by the Burlesque Hall of Fame with the "Sassy Lassy Award" (2011) for "Outstanding Contribution to the Art of Burlesque"  in recognition of Tease-O-Rama's impact in the burlesque revival. A longtime supporter of Burlycon, Baby Doe has been a Guest of Honor (2009), a Guest Speaker multiple times, and is a current Board member. She has been a judge at many burlesque competitions including Burlesque Hall of Fame, Viva Las Vegas and the Hollywood Burlesque Festival. She was also proud to have served on a small committee to organize The Dixie Evans Memorial Fund which raised over $40k thru events and classes globally to honor Dixie Evans. Since 1998, Baby Doe has served as the Artistic Director and Choreographer of The Devil-Ettes (www.devilettes.com), San Francisco's only synchronized 60's go go dance troupe.  Since 2001 Baby Doe and her husband Otto have been producing the popular weekender Tiki Oasis (www.tikioasis.com) in San Diego. Baby Doe's day job for the last 15+ years has been as a designer specializing in Culture + Collaboration + Community + Design Research for the international design company IDEO (www.ideo.com).