We want to give a shout out to Deanna Danger for inspiring us! Every year we open scholarships so more performers, regardless of finances, have the chance to learn at our convention in Seattle. But the lovely Miss Danger has taken it upon herself to create her own BurlyCon Scholarship for her students at her studio in Richmond, Virgina. Performers attending class at Boom Boom Basics have the chance to receive a scholarship assisting them in making it to BurlyCon!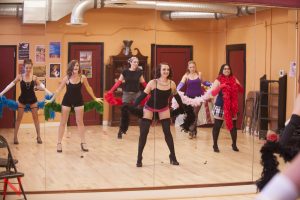 When we asked Deanna why helping her students get to BurlyCon was so important she had this to say:
"The first time I attended BurlyCon, I knew within the first few classes that it was going to change my life. The quality and breadth of education and educators is unparalleled, and as the only strictly educational & social burlesque convention out there, the amount of perspective and growth it brings to its attendees extends far beyond the burlesque journey. As a studio owner, I don't feel right about not attending every year that I'm blessed to be able. That's why I created the Boom Boom Basics BurlyCon Scholarship, we are a small community with very limited resources, and BurlyCon can serve a more encompassing burlesque education much better than we can. I wanted to help make BurlyCon more accessible to students with the drive and fire to work on their burlesque, and personal selves, who may not have ever otherwise had the ability to make it there on their own. Even just one year of BurlyCon can make a marked difference on a developing performer, and helping to get at least one person there a year is the least I could do in return for the art form (and this con) that has helped save me time and time again. <3"
We're so glad we can continue to bring exceptional educational opportunities to the burlesque community, but we couldn't do it alone. Thank you to Deanna Danger for motivating us to create a community where everyone can grow in their love of burlesque. If you're a studio owner wanting to create a similar initiative send us a message!
And if you're not attending class at Deanna's studio you can still apply for a scholarship over here.