I'm The English Muffin, and I'm the co-founder of Frostease Burlesque in Anchorage, Alaska. Last year at Burlycon, I presented my "Eat It" act for Peer Review. What was originally concepted as a throwaway act for a seven deadly sins show had grown, in my head, to a signature piece of commentary on diet culture, body shaming versus body positivity, and my own relationships with food and body image. As I reconceived the act in my head, I made a deal with myself – if I got a Peer Review slot, I'd put in the work and try to get it to the place I saw in my imagination. When I opened my acceptance letter, I am pretty sure I whispered "fuck," quietly to myself and started panicking. I'm here to talk about what happened after I said "fuck," and why you should definitely submit an act for the tenth anniversary of Burlycon this November.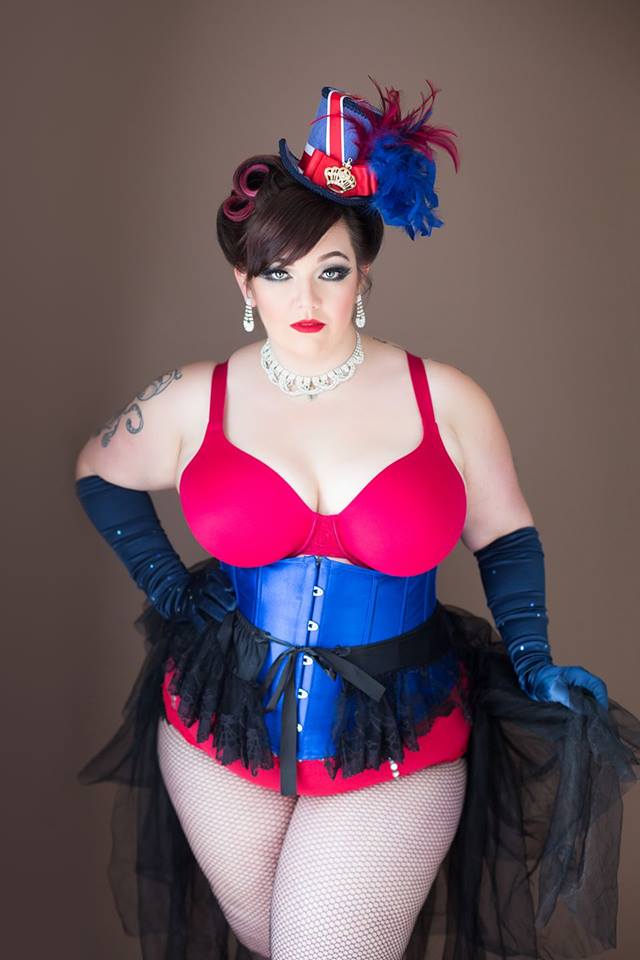 What is Peer Review?
Peer Review has been touted as one of the most valuable things Burlycon has to offer. You have a chance to bring an act to hundreds of your peers, for thoughtful feedback. You can be a glittery veteran or a fresh-faced new dancer, you can bring an act in the development stages or something to refine for a festival. Peer Review is a fair stage, with equal opportunities.
Slots are awarded on a lottery system. Once you've been selected to present, you're also given a chance to state your preference on which night you'd like to perform. As Burlycon approaches, you'll be provided with a call time, a tentative lineup, and the names of the volunteers working on the night you present.
Peer Review Audience Attendees are given index cards to record their feedback. No anonymous feedback is accepted. Cards are collected twice, halfway through the presentations and again at the end, for distribution to the presenters at the end of the convention. Feedback is filtered before it reaches the performer. Only feedback that is constructive in nature is allowed. For example, you'll never receive a card that says "You suck at twirling." You might, however, receive one that says "Your shimmy twirl is not successful, try a different method to get them spinning."
But that sounds terrifying!
Yes, it is, but let's talk about the ways you can prepare.
Rehearse, because it will make you a better performer.
The point of Peer Review is to workshop fine details on an act that's mostly complete, rather than to crowdsource a concept from its infancy.  Put in the work ahead of time and you'll have more detailed, helpful feedback at the end of your presentation.
The process of preparing act for my peers put a level of urgency on the creative process. I held myself to a higher standard, knowing I would be performing for others in the industry. Halfway through the process, I realized that every single act I create from here on out has to be held to that standard. Every audience deserves my very best.. I work harder on my acts now, conceptualize them earlier and take more time to bring my concept to life
Research, because it will prepare you, mentally.
Peer review is conducted Thursday and Saturday. As a performer, you can request a certain night to perform. I weighed the options pretty heavily but settled  on Saturday. I considered what time I arrived in Seattle, would I have jet lag? Did I want a few days to settle in or did I just want to get it over with as soon as possible? Weigh all your options but if you just can't choose, it's ok, Fosse Jack will find the best place for you. For me, the choice of panelist played a huge part.
My panelists were Coco Lectric, Tigger!, and Jacqueline Boxx. I'd met Jacqueline before, and fallen in love with her performance style at the previous year's Peer Review and I had taken classes from Coco at Burlycon, but I'd never had any interaction with Tigger! I made sure to attend at least one of his classes before my presentation so I had some familiarity with everyone in the front row.
Burlycon is a very intense experience, and adding the stress of putting together a presentation can be very overwhelming. The day I presented, I allowed myself to skip two class periods in the afternoon. I ate a full dinner and drank lots of water. I took a nap. I didn't drink caffeine after noon. I didn't drink any alcohol (until I was done). I spent as much time as I could relaxing and preparing slowly, so I didn't feel overwrought by the time I had to go to the ballroom.
I did all this self care and research because I carried this level of high anxiety with me. When I sent in my application to present, I immediately started spiraling outward. What if no one likes my act? What if all my feedback is horrible? What if the panelists are mean? What if everything goes wrong and I can never show my face at Burlycon again? Knowing myself and caring for myself by doing research beforehand and taking care of my mental and physical health gave me the ability to cope with the process, this is especially poignant if you are a performer with anxiety. I don't really remember too many details about my actual time on stage. I remember smiling a lot, and I remember thinking that there was SO much food to keep track of in my costume, but I also remember having SO MUCH fun. All the previous stress and anxiety melted away when I heard the first laughter from the audience.
Reach out, because it will help you form connections.
After my name was drawn to present, I reached out to several performers I knew who had done Peer Review in the past. I asked them for advice, about the experience, and what to expect. Knowing some of these things in advance was extremely helpful to me, as it made the whole thing less shadowy and unknown.
You want to stack that audience with people who will cheer for you. I made sure to tell everyone I knew that I was presenting an act at Saturday's Peer Review. Tell everyone you can that you're doing a peer review and ask them to come. Not only will you have people in your corner, it will help your other presenters by giving more opportunities for thoughtful feedback. Producers will have a chance to see what you can do, and decide they love you for it. There is always a possibility that someone will scribble "contact me please" on your feedback and you'll book a trip across the country to perform for a brand new city.
You'll form a bond with your fellow presenters because you're all terrified for the same reason. It's something so unique that you won't even feel it with other people who have done Peer Review on other nights, or in other years. It's a very intimate.
Reflect on your feedback, it will help you know yourself.
You'll receive a lot of feedback which is great but also scary. Read the feedback in a way that makes sense to you. Iva Handfull told me that she had her feedback read aloud to her, and only the cards that had something for her to work on. By skipping the strictly positive ones, she could focus on the feedback that would help her polish the act.  Jacqueline Boxx reminded me that the feedback was all helpful, even if when I disagreed with what it said. I waited until I was home, in pajamas and on my couch with a glass of wine to read my feedback, and it was awesome. Everyone was kind in their critique, many good points were raised and I immediately incorporated them into the act as you can see it today. Other points were dismissed because they don't suit my vision.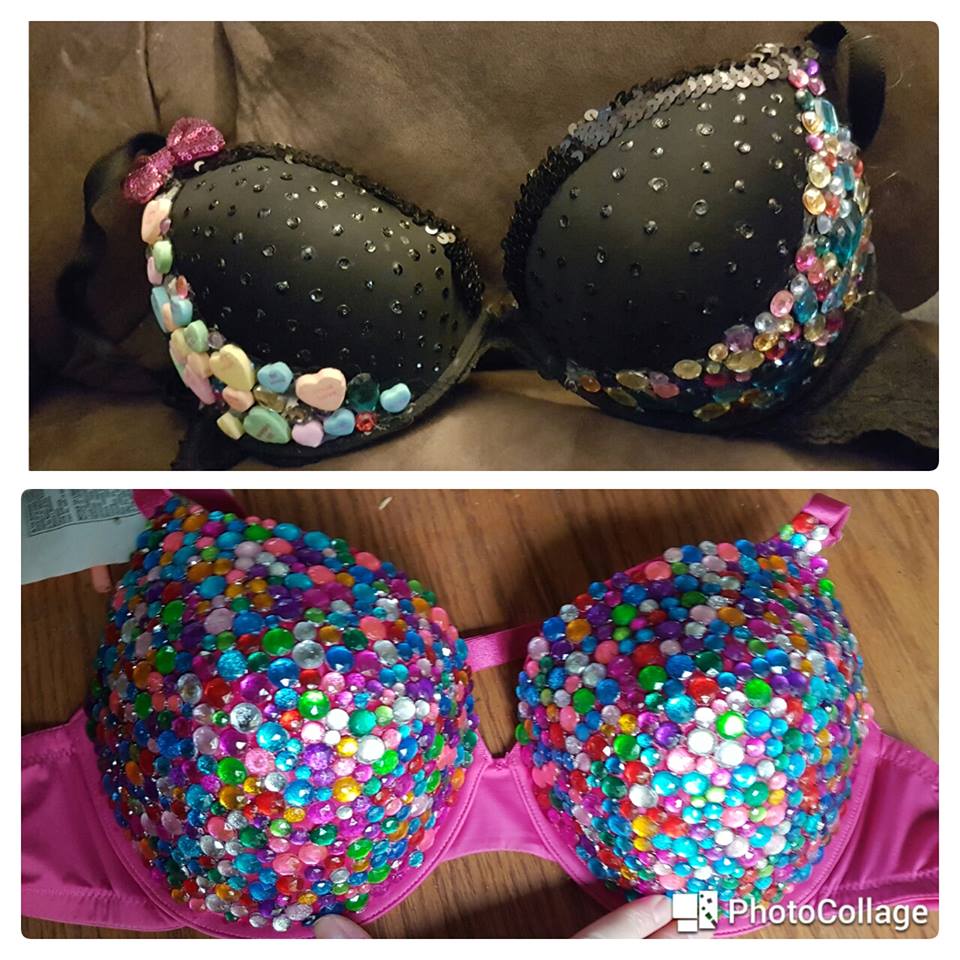 Feedback will give you obvious answers, over half of my feedback cards had the exact same advice on it – meaning it was pretty clear what audiences wanted to see more of. In the original "Eat It," I enter the stage wearing the oldest, saddest fleece bathrobe I have in my possession. For Burlycon, I upgraded that to a satin robe trimmed in boa feathers, to add a little glamor to the act. I received consistent feedback that a rattier robe would have been more impactful and signaled a larger transformation from the starting character attitude to how she ends. Do the act that you want to do, not the act that you think the audience at Burlycon is expecting or wanting to see, your instincts are almost always right and you should trust them. Feedback will also tell you what your strengths are, and what part of your body is the absolute cutest (it's my ass, btw).
You'll feel good that you did it.  
The act of putting yourself up on the Peer Review stage is a statement that you're here to be taken seriously as a performer. It shifts your focus from whatever stage you call home and forces you to see yourself on a much bigger scale. It's not easy to bare your soul as well as your ass in front of people you look up to, but when you do it and you hear them cheering for you, you'll never look at yourself the same way. I feel more confident in my abilities and I feel very strongly when I say it was the best thing I could have done for myself at Burlycon last year.
So submit an act for Peer Review. It'll be fun. And I'll be there to tell you your ass is cute.