Intensive Class Program
BurlyCon is thrilled to announce that BurlyCon Intensives will be back in 2018! "More time!" you said, "I could take hours of classes with the top burlesque performers in the world!" you told us. Well, we listened! Intensives for 2018 will be posted in April. For an idea of the types of events you can expect, 2017's intensives are listed below.
Intensive Programs for BurlyCon 2017:
Ultimate Self Confidence! Total Tool Kit Intensive with World Famous *BOB*
Flexibility Fitness Intensive (Intermediate Level) with Kristina Nekyia
The Elements: Act Development Intensive with Ray Gunn
Production Management Intensive with Baby Doe
These workshops are multi-hour, in-depth explorations of various topics with the expert instructors you love. Each intensive will only cost $15 and this fee is non-refundable. These classes will be limited in size allowing every student time with the instructor and the ability to really dig into the topic at hand. We suggest only taking two classes at most- these are long workshops and you don't want to miss out on all the other exciting events at BurlyCon!

Ultimate Self Confidence! Total Tool Kit Intensive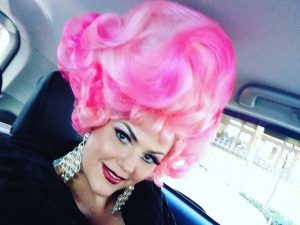 World Famous *BOB*
Friday, 2:15-6:15
Level: All levels
Class limited to 30 People
OPEN TO ALL GENDER EXPRESSIONS & PROFESSIONS!
Ever feel stuck in who you are? Do you feel that your onstage presence has become stale? Does the predictability of your life bore you but you're not sure how to create change? Do you feel scared or unsure of being able to be the person you've always dreamt of being? Join World Famous *BOB* as she hands you the tools to take steps towards creating the true sense of Ultimate Self Confidence that you desire.
This 4 hour intensive will explore these questions in a safe group setting. Please bring a pen, snack, paper & be on time.
Flexibility Fitness Intensive (Intermediate Level)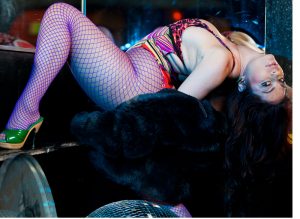 Kristina Nekyia
Friday, 9am-12pm
Level: Intermediate
Class limited to 20 people
This three-hour intermediate skill level intensive will give you a full-body stretch and strengthen routine designed especially for dancers to help improve your flexibility and movement quality. We will focus on hips, shoulders, and backbends. creating greater range of motion through movements and strength-building exercises. Dancers will come away with a toolbox of techniques that can be used to build desired positions and abilities through regular practice. Please bring a yoga mat and a journal to class and wear comfortable, stretchy clothes. This is an intermediate and above level workshop. While advanced flexibility is not required, it is advisable that you have a regular fitness practice. You will work.
The Elements: Act Development Intensive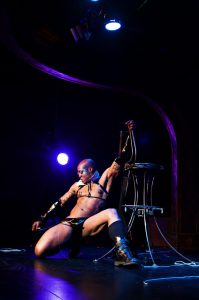 Ray Gunn
Saturday, 10:15am. Lunch at noon. Resume at 2:45PM-4:45PM
Level: All levels
Class limited to 30 people
This 4-hour intensive workshop and lecture is designed to help participants with act building. Participants will discuss the basic components of constructing, focusing, and editing a successful burlesque act through: identifying the major types of teases that are most successful in burlesque, focusing on musicality and the creation and construction of choreography as it applies to burlesque concepts, and examining an act's stagecraft, central focus, and element continuity. Participants should come prepared to take notes, openly discuss the subject matter, and dress comfortably to move.
Production Management Intensive     
Baby Doe
Sunday, 9am-12pm
Level: Intermediate
Class limited to 30 students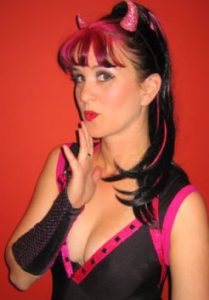 Be an Expert at Production Management!
In this intensive 3 hour workshop you will walk away with all the skills needed to throw a top-notch complex event and remain sane and loved! Coming into this intensive you should already have produced at least one event and are looking to grow what you have created or take it up to the next level.
Baby Doe will dive deep into a variety of topics to get you set for success as well as inspired to keep your own events growing. Topics include: organizational tools, managing huge amounts of performers, maintaining excellent Group Dynamics with volunteers and staff, social media, sponsorship, marketing, merchandise, working with venues, budgets and creating the best event for your audience! This intensive has been designed to be partial lecture and partial group session so that each attendee gets the most out of the experience.