Limited Edition Poster
Order your limited edition poster now to pick up at the BurlyCon merchandise booth!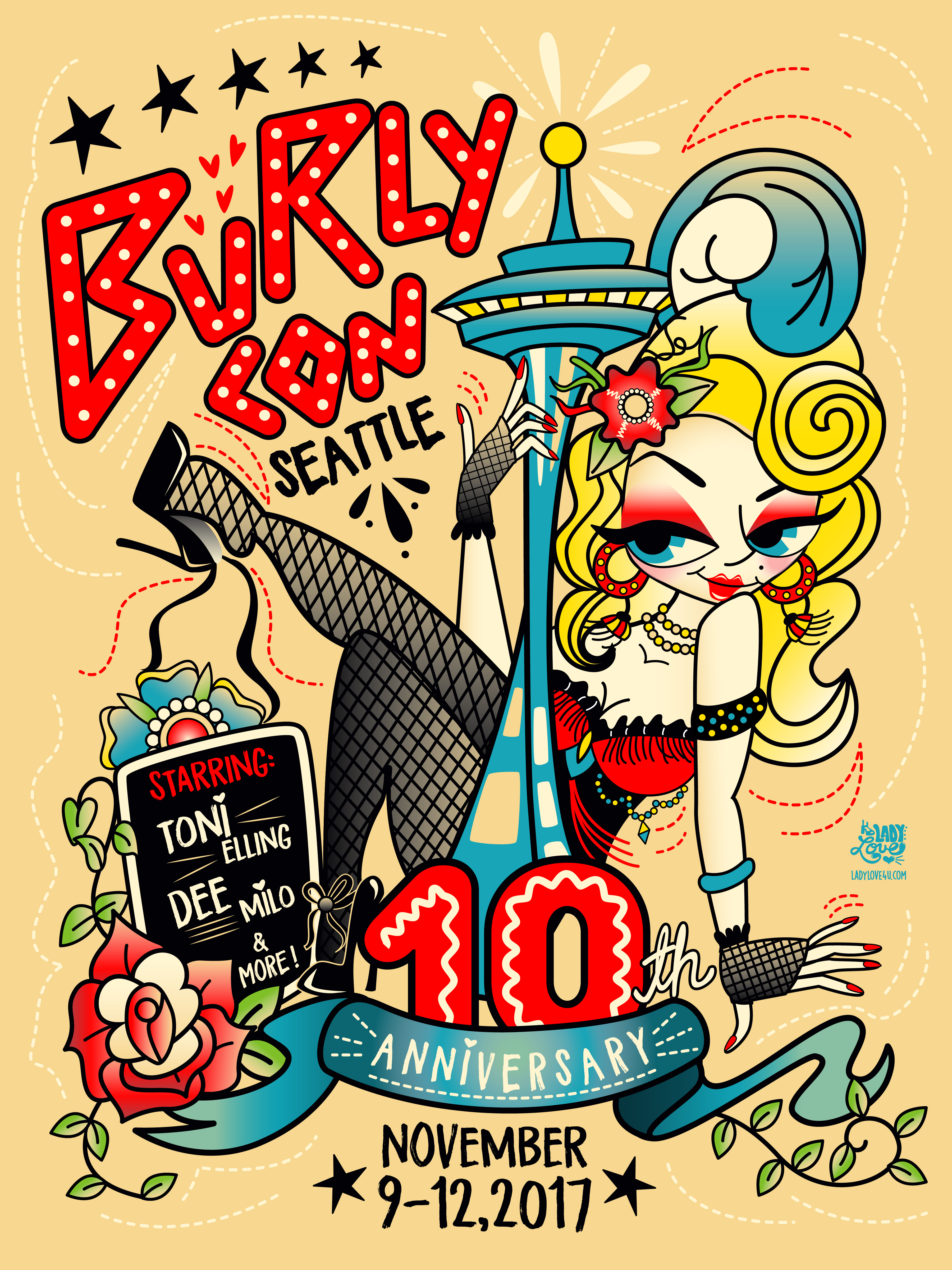 Limited Edition 10th Anniversary print by Lady Love
The poster is a special Limited Edition 10th Anniversary print from Mexican artist Lady Love. Each poster is 12x16 inches, printed on heavy card stock, ready for framing. As part of our collaboration with Lady Love, we will be donating part of the poster proceeds to UNICEF, whom Lady Love has chosen due to their extraordinary work in Mexico since the recent natural disasters.
$20.00
About Lady Love: Lady Love! The 33 year old illustrator and graphic designer from Mexico City whose street art projects depicts her obsession for high heel, vintage burlesque and excessive make up. Her illustrations are published in well known Mexican magazines and newspapers and her work has been exhibited in Jose Ma. Velasco Gallery, Vertigo Gallery, Modern Art Museum in Mexico, Resistance Galley in England and Nooworks in San Francisco. Because she loves burlesque and wants to share her talents she reached out to BurlyCon on teaming up for their 10th Anniversary. While she won't be able to make the event this year- she hopes to make it to Seattle in 2019! Learn more about her at http://ladylove4u.com/
About UNICEF: UNICEF works for children in more than 190 countries and territories. Every child, no matter where they live, deserves a safe and healthy childhood. They believe ZERO children should be abused, exploited or denied the right to health care, education and protection. UNICEF has a 3/4 star charity rating on Charity Navigator and almost $0.90 cents of every dollar goes toward their mission of helping children. They are currently helping in Mexico due to the recent natural disasters and Lady Love has chosen them to be her charity of choice!