Invited Presenter Spotlight: Bazuka Joe
This year marks BurlyCon's 10 year anniversary and we are celebrating in a big way, with incredible changes to our format and schedule! Every year BurlyCon invites a handful of select members of the burlesque community to share their knowledge, our Invited Presenters. Next up in this year's Invited Presenter spotlights is Bazuka Joe! This multiple award winning burlesque megastar is a force on and off the stage.  From titillating across the world as a member of The Stage Door Johnnies, to his motivational #NoseToTheRhinestone social media accountability network, Bazuka has been building love for burlesque in fans and performers alike. Bringing a background in contemporary dance and theater and an ever present excitement and curiosity, Bazuka inspires the same in his classes.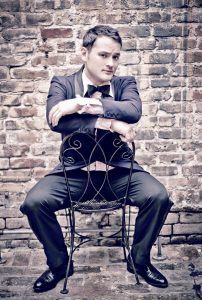 We can hardly wait to get in the classroom and soak in a little history and knowledge, we hope to see you there. Secure YOUR registration today to join us for the world's largest educational burlesque convention and spend some time with 2017 Invited Presenter, Bazuka Joe!
photo: Kaylin Idora