Invited Presenter Spotlight: Ray Gunn
This year marks BurlyCon's 10 year anniversary and we are celebrating in a big way, with incredible changes to our format and schedule! Every year BurlyCon invites a handful of select members of the burlesque community to share their knowledge, our Invited Presenters. Today's Invited Presenter spotlight is 2013's King of Burlesque at the Burlesque Hall of Fame Weekender, Ray Gunn! Trained in contemporary dance, acrobatics, capoeira, and pole dancing, Ray brings an incredible background to his performance and teaching. From touring the world as a member of The Stage Door Johnnies to his newest artistic spectacle,  The Verticle Sideshow, Ray brings intensity and artistry to the stage and shares his knowledge as passionately in the classroom.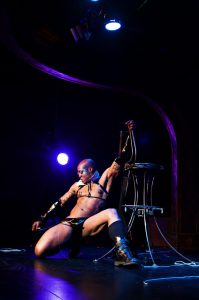 We can hardly wait to get in the classroom and soak in a little history and knowledge, we hope to see you there. Secure YOUR registration today to join us for the world's largest educational burlesque convention and spend some time with 2017 Invited Presenter, Ray Gunn!