We love our major sponsor Velvet Swing!  This incredible cannibis enhanced sensual lubricant is your path to bigger and better orgasms. We are so excited they have organized this little field trip to Buddy's Pot Shop for all our attendees 

on Thursday, the 9th

.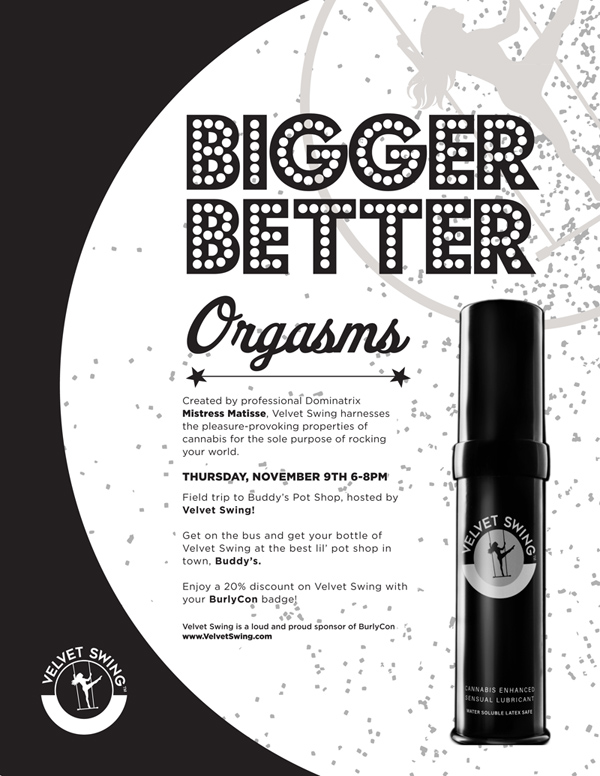 The shuttle will leave at 6pm and then again at 7pm from the main hotel lobby. We will have representatives in the hotel lobby to greet you, check you off the sign-up list, and direct you to the shuttle. On the bus get into the party mood with giveaways and more from Velvet Swing and Buddy's, including raffle tickets for a chance to win at Buddy's glass shop! And once you reach your destination enjoy a 20% discount on Velvet Swing, Happy Apple, and Pearl20 products plus 10% off the rest of the store. Get more info on Velvet Swing HERE.
So how do you sign up? After visiting registration and picking up your badge, simply visit the BurlyShoppe table in the Emerald Foyer and put your name on the list! Each shuttle can only hold about 20 people, so sign up early to make sure you have a seat.
And these deals aren't strictly for the Thursday field trip. Visit Buddy's anytime from Wednesday to Sunday and let them know you're a BurlyCon attendee for your discounts at their shop and on Velvet Swing! Get more info and directions to Buddy's here.
Now for some fine print – the hotel is technically on Federal property, so make sure to obey all Federal laws while on-site at BurlyCon.