Whether this is your first BurlyCon or you need a refresher from last year we are pleased to bring you our New to BurlyCon blog series where we give advice to help our first time attendees have a great experience! Our first blog focused on how to dive into the class schedule as well as some tips for preparing for a weekend of burlesque classes. In this blog we'll go over a few important spaces at the convention designed to help our attendees relax or rejuvenate.
Your plane has landed, you've collected your luggage and have successfully checked- in at the hotel(which is just across the street from the airport, so convenient!). Now what? Registration for the convention opens on Thursday from 10:30a.m. – 7:00p.m. If you don't arrive on Thursday don't worry. The registration desk with be in the same place all weekend. Check the schedule to see what hours the registration desk is open for the day you arrive. The information is located in the BurlyCon class schedule.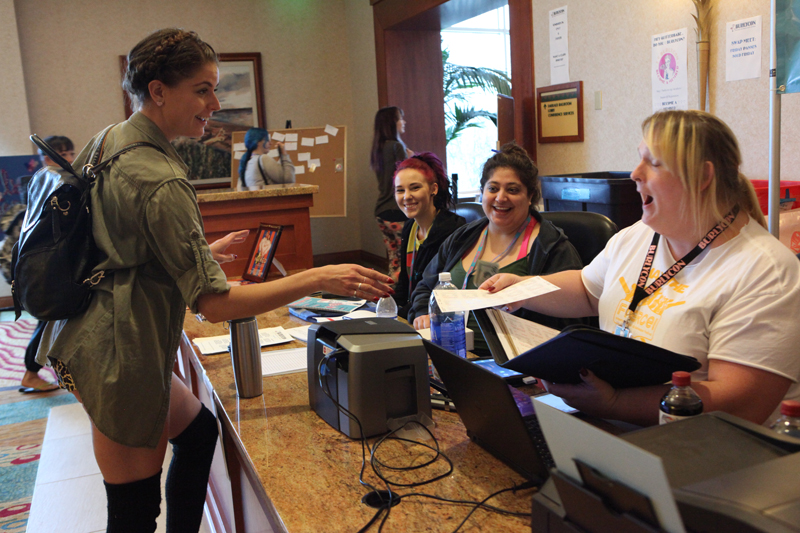 You'll need to pick up your badge in order to access the convention. The registration desk is located just across from the elevators on the top floor of the convention center. A not so well kept secret about registration: Did you know that on the last day of BurlyCon, Sunday, November 12th from noon-1:00p.m. you can buy your ticket to BurlyCon 2018? That's right, the cheapest ticket available for BurlyCon 2018 is sold on the last day of the convention and will be $125 cash or credit. After 1:00p.m. the ticket jumps to $175 so don't miss your opportunity to grab your BurlyCon 2018 tickets for $125.
Need a snack in between classes? BurlyCon X has a Hospitality Room where you will find snacks and drinks to help you get through the weekend. This year Hospitality will be offering the usual array of snacks for all kinds of diets as well as PB&J Bar (including gluten free bread and nut free options). Coffee and Tea will be available all day to keep you recharged.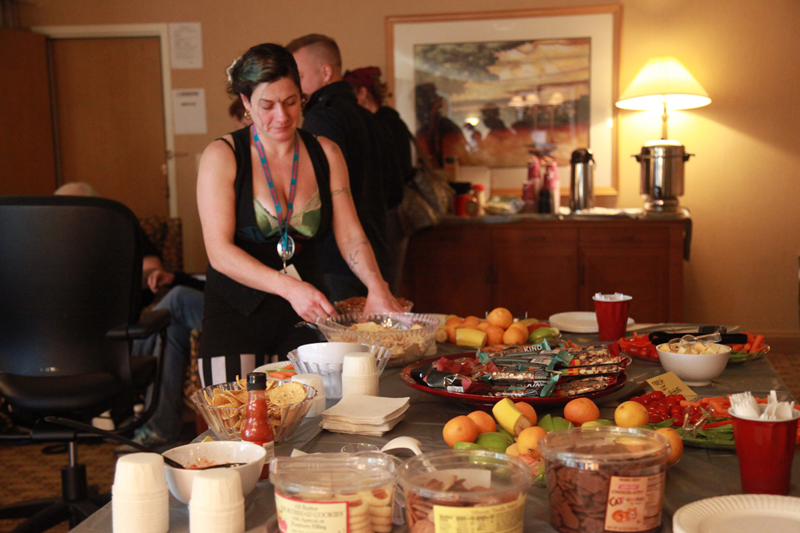 In addition to the free snacks offered at Hospitality you will also find The Honor Bar: which has heartier snacks for you to refuel if you missed lunch. You'll find a place to donate money to help offset the cost of these items. We will also offer The Share Table: Did you bring something fun from your hometown and want to share it? Pack a few too many bags of pretzels? Bring them in and share with your fellow burlesquers!* *Please note we can only accept shelf-stable snacks!
In the evenings the Hospitality Room transforms into BurlyBar! If you're looking for a cheap drink or a place to socialize before the events look no further than the BurlyBar. The BurlyBar bartenders will be serving up specialty cocktails as well as wine, beer, and mixed drinks, so bring your cash and credit and stop on by!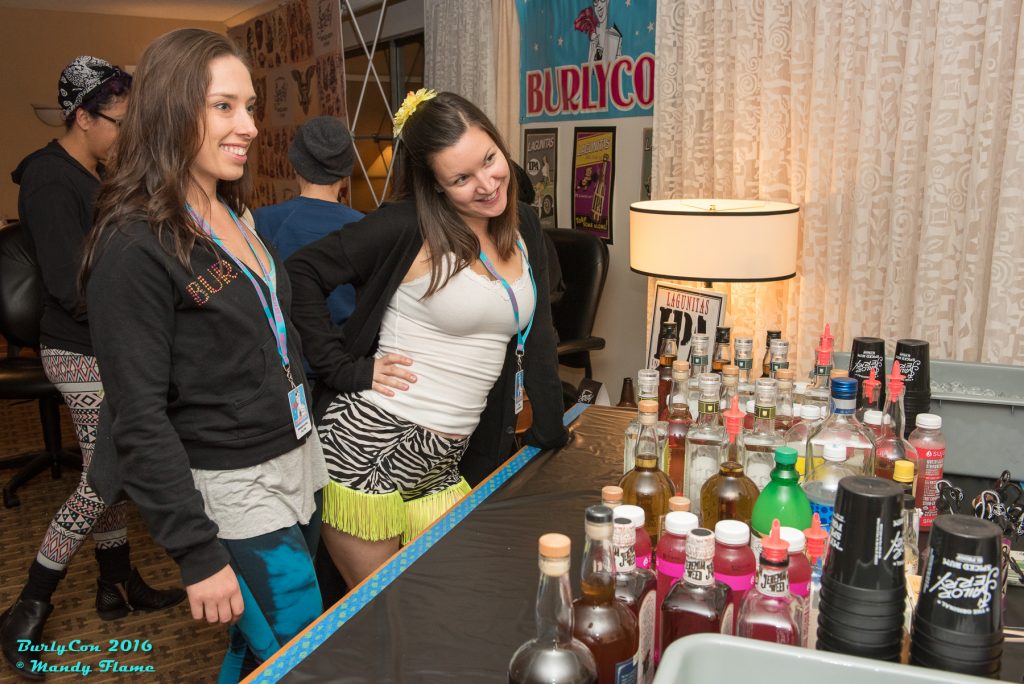 Be sure to check your schedule for the open hours of both Hospitality and the Burly Bar. And be aware that Hospitality will be closed on Friday from 11:45 am–1:15 pm for the Opening Ceremonies and briefly for the Group Photo on Friday evening. If you have questions there is always a volunteer in the Hospitality room to help answer any questions. How to get to the Hospitality Room: The Hospitality Room is located in the St. Helen's Suite which is found on the 3rd floor of the main hotel building(sitting over the Elliot rooms on the 1st floor).
If you're looking for a place to find a little peace and quiet look no further than the Library. The library offers a large assortment of burlesque books, papers, and poster presentations. This year you will be able to learn more about the Pastie Project at their book signing event as well as view curated artworks and discussion pieces on Performers of Color.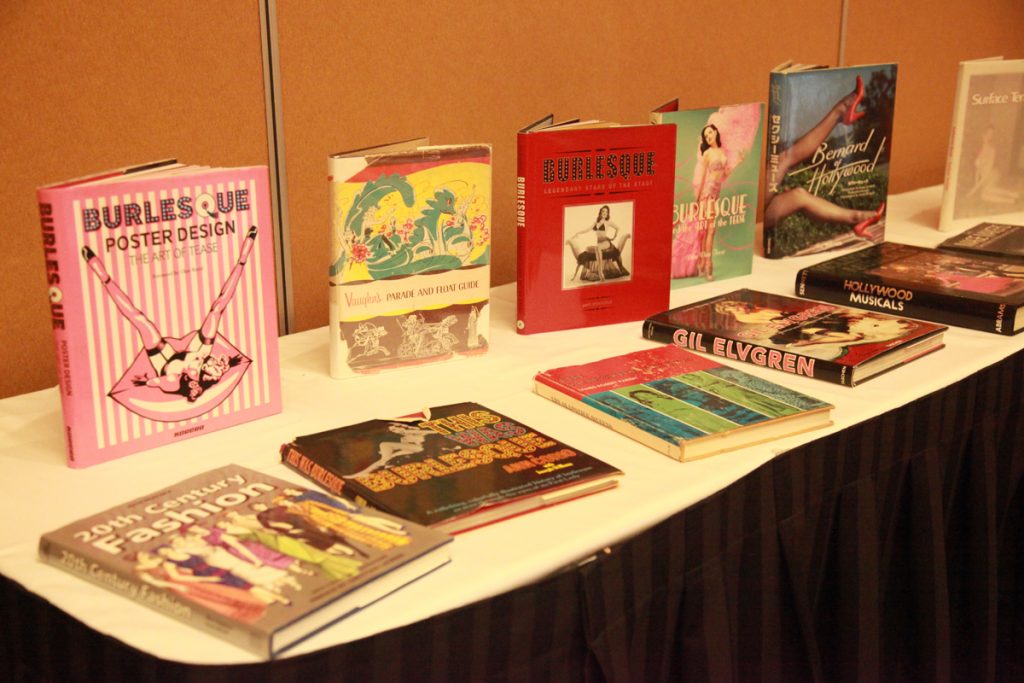 On the other end of the spectrum is our much more lively Vendor Fair! Home to well over 20 vendors this is the place to be if you need a new sparkly anything! Rhinestoned bras, pasties for days, and enough glitter to be seen from the moon. The Vendor Fair is located in the main convention area and will be open Thursday, Friday, and Saturday but not open on Sunday. And while you're getting a snack at Hospitality in the main hotel side check out Melissa Flynn's Sweet Shoppe, located right next door! She's got you covered for the finest vintage threads. Make sure to check out your program for all the details on times and more.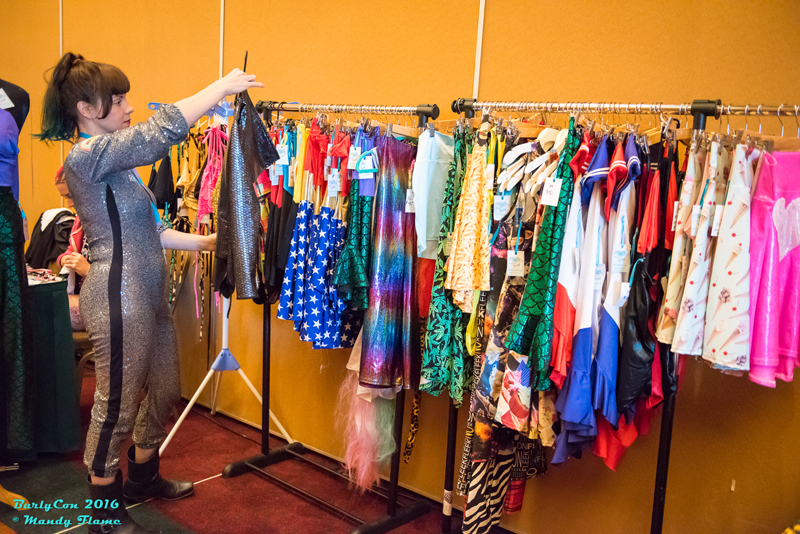 That is a wrap for this week's New to BurlyCon blog focusing on hospitality at the convention. Keep checking back for more blogs to learn the ropes of BurlyCon and we'll see you soon in November!
Thanks to Vixen Valentine and the Media Team for this blog series!