by Vixen Valentine
For the 10th year in a row the Seattle Burlesque Community will be participating in the Seattle Pride Parade on Sunday, June 26th. Planning is already underway as decorations and a float are currently being constructed. A few of the Seattle Pride Parade Committee members were able to give us some insight on what is in the works for this year's' parade!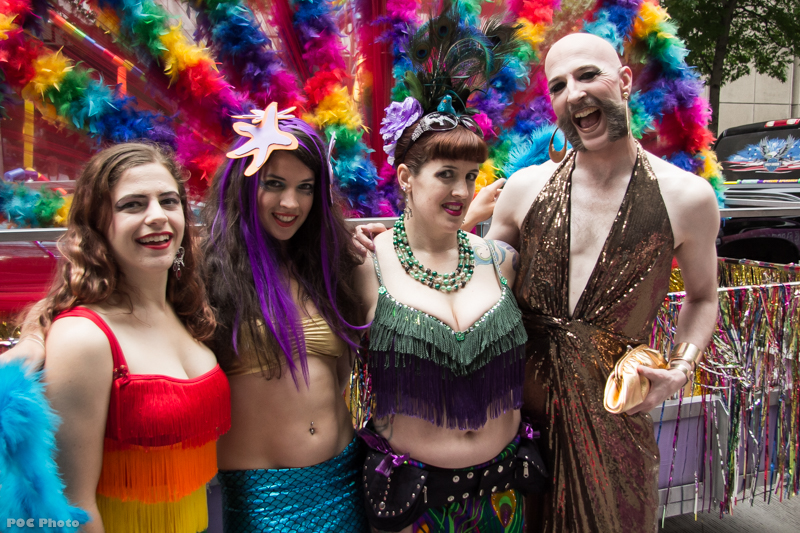 What was the process for deciding on the theme this year?
"We wanted to choose a theme that would not only be bright and cheerful, but would appeal to the widest audience possible. We also wanted to pick something that would be easy for the people participating in the parade to dress and accessorize for." – Icy London (IL)
"I came up with three ideas for Indigo: a) Carnival, b) Beach party, c) Candyland sweet treat themed. I let her decide. I gave her different ideas on decor." – Sister Siren of Siren and the Treasured Chests (SS)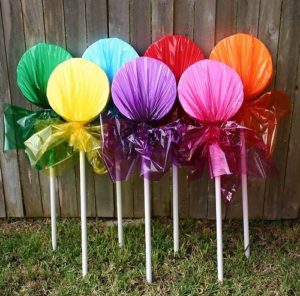 As the theme is Candy what sorts of images are inspiring the float decorations?
"The original inspiration is a vintage candy shop striped awnings, with swirled lollipops and bright, cellophane wrapped candies." – IL
"Striped candy awnings for candy booths. large ice cream cones, lollypops and hard tack candies. Also donuts. Because who does not like donuts?" – SS
How long does it take to build the float? Including gathering and making the decorations and assembly time?
"We're hoping that the float build is faster this year than last, as we have last year's float base to build on. Last year was the first time #SeaBQ marched with a float, so there was a lot of construction to bring the trailer up to parade safety specifications – including fabricating and welding handrails all around and a safety chain across the back. This year we are creating the "Candy Shack" which will require framing up a small shed on the back of the trailer, using 2×4 studs, over which will be draped the candy stripe fabric. We have three professional carpenters – Mandy Flame, Artemis Lark and Paul Strong – so we're expecting to get the carpentry work done in a day. After that the float will be towed from Paul's workshop to Studio Blue, for the decorators, led by Shana Deon, to add the fabric and other décor. So, assembly will take two full days, one of carpentry, one of decorating, with a team of three each day."  – Mandy Flame (MF)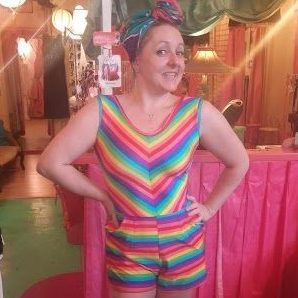 What about your own costumes? What sorts of outfits and accessories will you be bringing to the Pride Parade this year?
"I have made a cotton candy head piece that I am letting a Burlesquer wear. I also made a donut boa that I made for someone to wear. I posted photos online of all of these things. My costume is a giant ice cream cone. I will be busy the morning of so I need something easy to pull over my head." – SS
"I will be wearing a rainbow romper designed by J. Von Stratton. We'll have various accessories, including flowered and candy-themed headpieces, and people will be carrying giant lollipops." – IL
"I'll be wearing a rainbow onesie, made by Scarlett O'Hairdye. Possibly with a rainbow tutu, rainbow socks, … after all, it is Pride! . For an accessory, I'll have a couple of cameras strapped on. Photographer and performer Paul O'Connell has done an amazing job in past years of documenting #SeaBQ@Pride … but he's moved away from Seattle for family reasons, so I'm humbly trying to fill part of the hole he has left." – MF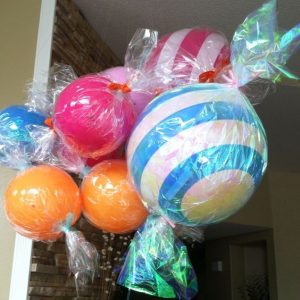 Speaking of sweets, what is your favorite kind of candy?
"Dark chocolate. Or Sherbet Lemons if the weather is too hot to eat chocolate without it melting." – MF
"Warheads – the more sour, the better!" – IL
"I don't eat much candy at all. I get sick from to much sugar. I LOVE to look at it though. I used to own a yogurt parlor in Everett (www.loobelles.com).  I made sure it was full of sweet treats. You can see some of the photos online. I think I like candy popcorn the
best. Cotton candy is fun if I don't eat to much. I love lime and sour apple flavored things, and of course chocolate when I am about to rag out." – SS

Is there anything I missed that you are excited about regarding this year's participation at the Pride Parade?
"I am just excited to decorate. I love…LOVE to decorate anything and I am quite good at it. Last week I did 'divas take the hill' and made huge rainbow balloon columns. My first degree is in commercial and interior design but really? It just comes so naturally to me. It does not stress me out at all." – SS
"I'm both excited and nervous about Pride taking place so soon after Orlando. It's hard not to think that for 3 hours, I'll be a walking target. But, I, like many others, am determined not to let terrorism diminish my life. I choose love over hate, pride (and Pride) over fear, and will live my life larger, because some no longer have lives to live." –  MF
"I'm looking forward to a big turnout this year. Coming on the heels of the tragedy in Orlando, I think that the community will really rally together to support and celebrate one another." – IL