Welcome to BurlyCon 2015!!
Burlesque Education & Social Convention
BurlyCon, November 12-15, 2015, is an annual burlesque social and educational convention held every fall in the Seattle area. As the educational arm of the burlesque arts circuit, BurlyCon provides a unique opportunity to learn, practice, network, and thrive in a supportive (and fun!) community environment. There's simply no other single event where attendees can access such multifaceted teaching talent to explore the practice and the theory of burlesque.
REGISTER NOW!
Join us for BurlyCon VIII - BurlyCon, November 12-15, 2015
at the Hilton Seattle Airport & Conference Center.
Each year, BurlyCon kicks off its festivities with a meet-and-greet worthy of the glitzy, glamorous burlesquers that join us here in Seattle. What better way to get in the mood for a raucous, social weekend of burlesque classes than by playing dress up? Here is a selection of some of our fancy guests in fancy vintage threads from past years!

Passes to BurlyCon 2015 are on sale now! But wait, there's more!

New in 2015! Buy a ticket for just the evening events! Now your lover, companion, or BFF can attend the fabulous social events without needing to buy a full weekend pass to the con. For those of you following along at home, that's the Vintage Meet-and-Greet, Movie Night and Storytelling, and, of course, the DANCE! (This year's theme? Mystical Menagerie. Prepare to be unicorned.) See you there!

Read more!

---
Sign Up for Our Newsletter!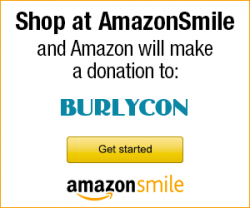 Tweets by @BurlyConSeattle