by Kristina Nekyia, BurlyCon board member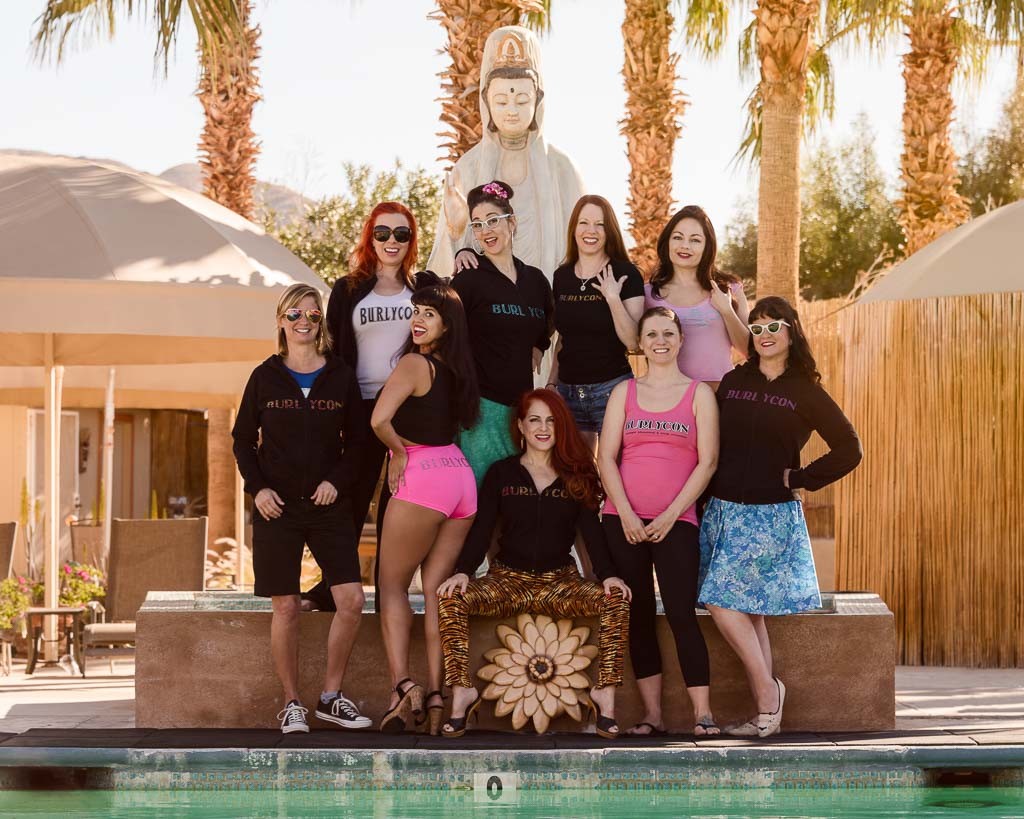 Somewhere deep in the desert, watched over by a towering, serene statue of Quan Yin, nine powerful women gathered to talk about the future of burlesque education. They talked about strategy, business, finances, and procedure. They talked about heart, community, sexuality, inclusion, art, and love. Out of this cauldron of ideas and passions, they began to form a plan…
It sounds mythical, and it felt historical. To our knowledge, it was the first time that a group of burlesque experts from across the United States has intentionally gathered in one place over a period of days to discuss the educational future of the art form.
It was pretty exciting.
The first ever strategic planning retreat for the BurlyCon board of directors took place in Desert Hot Springs, the slightly seedy neighbor of Palm Springs, at a clothing optional spa that let us set up camp for five days of hard core discussion. We were joined by Leslie Robin, a facilitator from the Los Angeles Center for Nonprofit Management who was assigned with the task of helping us focus, stay on task, and develop a realistic plan for the organization.
We came to the retreat with the common goal of expanding BurlyCon's ability to support and serve its community and the art form we all love so much. We each spoke about why we love burlesque and why we believe it is important to the world, a world that has often marginalized burlesque and its practitioners.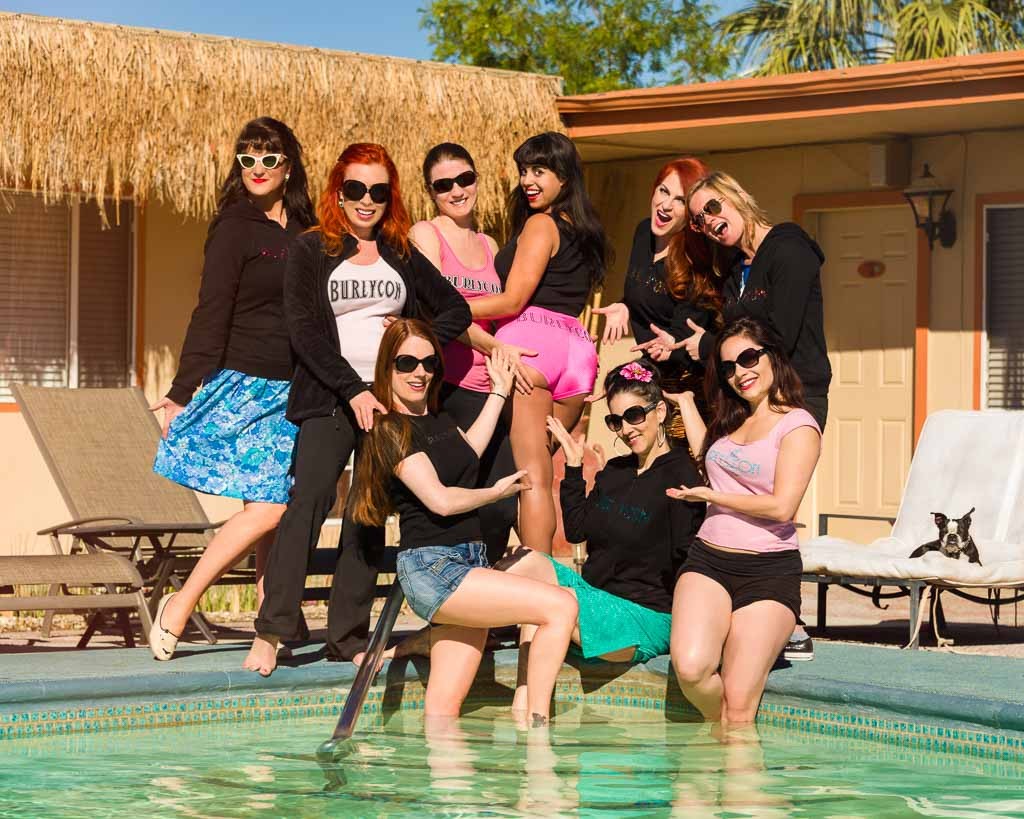 After some discussion, it became clear that each of us had our own ideas about how best to move ahead and after the first day we were all feeling a bit overwhelmed by the staggering number of amazing projects that had been proposed. We are certainly wealthy in dreams and ambition, and because of our years in burlesque we are used to making our dreams happen using nothing but some recycled fabric, a pile of sequins, and a slightly over-the-hill tube of E600.
But we also realized that, to really move forward as an organization and as a community, we had to overcome some of our fierce independence and DIY approach. For BurlyCon to grow, we could not do it all ourselves. The entire point of BurlyCon, its reason for existence, is community.
So then we started talking about this idea of community. Who is this community? Of the nine people in the room we represented performers, producers, choreographers, and fans of burlesque. Of the people who attend the annual BurlyCon event we can add costumers, historians, students, collectors, photographers, and musicians. But we also want to serve people who may never make the trip to Seattle to attend BurlyCon weekend. We want to serve the legends of burlesque, our grandmothers and grandfathers of burlesque whose stories and teachings are a vital part of today's living art form. We want to serve researchers and academics who are interested in burlesque and the important role it has played in shaping art, entertainment, and culture. We want to serve other performers who have been influenced by burlesque, and people who have no interest in performing but love burlesque because of its ability to heal and bring joy and sexual empowerment.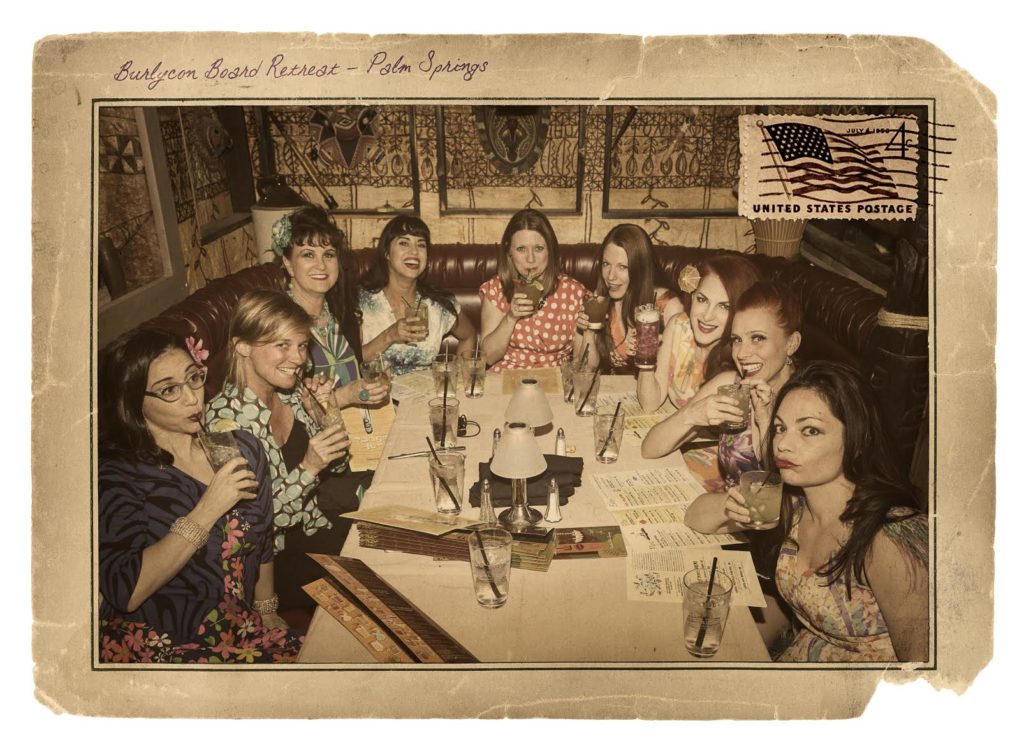 We want to serve the pulsing, living heart of burlesque—everyone and anyone who has been influenced and inspired by the art of the tease. If that sounds massive and ambitious to you, it felt that way to us too. So from there we tried to distill this global task down to some realistic, concrete goals.
Over time we were able to tease out common themes and strip down the big ideas to some concrete, unanimously popular ideas. While these ideas are still ambitious—would you expect anything less?—they seem feasible, and we worked out some plans and timelines to bring them to fruition.
Over the coming year, as the plans start to roll out, we will be reaching out to you, our community. BurlyCon exists as a collective effort of everyone who has been a part of it and for BurlyCon to continue to grow and offer more to the world of burlesque, it will be because we are able to momentarily set aside the do-it-yourself mentality for a do-it-ourselves philosophy.
Can striptease artists run a badass nonprofit that changes the world? We believe the answer is yes.
So stay tuned, so many exciting developments are right around the corner…