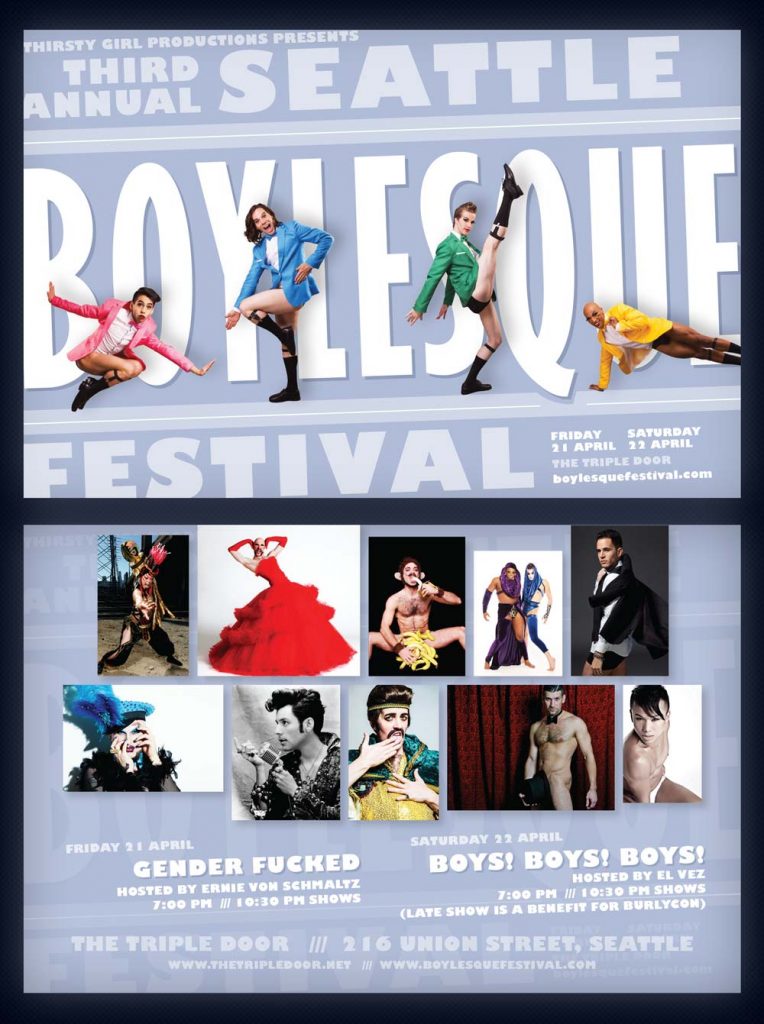 The 3rd Annual Seattle Boylesque Festival is proud to present a BurlyCon Benefit at their Saturday night 10pm show. This late show will help BurlyConX be the biggest educational burlesque bash yet! Buy your tickets for the entire event HERE.
With more than 30 performers from Japan, New York, LA, Seattle, Portland, Las Vegas and Canada, this year's two-day extravaganza promises to be the sexiest weekend of 2017.
The festival kicks off Friday, April 21st with a Gender Fucked theme hosted by Seattle's own Ernie Von  Schmaltz. The gender-bending festivities feature over a dozen national and international performers that will get your motor started for a full weekend of Boylesque! Starring: Waxie Moon (Seattle), Tito Bonito (LA), Mod Carousel (Seattle), Isaiah Esquire (Portland), Johnny Nuriel (Portland), Paris Original (Seattle), EmpeRoar! Fabulous (Seattle), UmA Shadow (Yokohama), Al Lykia (Seattle),  Suwasit (Las Vegas), Howard Van Zandt (Edmonton), Moscato Extatique (Seattle), Hank E. Panky (Kansas City), Sugar Dish (Massachusetts), Namii (Seattle) & Kristie Champagne (Seattle)!
Saturday's eleganza is hosted by the legendary Mexican Elvis impersonator, El Vez, and features top boylesque performers from across the globe.  The late show benefits Burlycon, the only not-for-profit professional growth and educational convention for burlesque performers, producers, fans, and aficionados!  Starring; Izohnny  (Portland), Tito Bonito  (LA), The Evil Hate Monkey (NY), Waxie Moon (Seattle), Devon Aire (NYC), Mod Carousel (Seattle), Uma Shadow  (Yokohama), Sudbury Burlesque (Ontario),  Luminous Pariah (Seattle),  Beau Creep  (Edmonton), Falcon Ay (Seattle),  Trojan Original (Seattle), Ernie Von Schmaltz (Seattle), Matt Knife (NY) Jesus la Pinga (Seattle), and  Bolt Action (Seattle)!